Build Your Next Generation Network
Connect without any compromise
Carrier Ethernet Services
Your customers require a resilient network which has the potential to adapt according to business needs. A flexible network configuration makes it easy for customers to send data and liaise with each other. Ethernet has continually reinvented itself as the technology of choice for networks around the world. It is now easier for you to configure and shape your network with the topology of your choice that can address the demands of your end customers.
Cybernet's Carrier Ethernet services enable you to link multiple global locations and data centers together through its simplified and reliable carrier network. This service ensures your business-critical services can be deployed anywhere in your organization, through Cybernet's reliable and secure infrastructure. Our Carrier Ethernet services provide your organization with high speed connectivity and efficient management of traffic.
E-LINE and E-LAN
Cybernet's E-Line and E-LAN services provide point-to-point and multipoint connectivity. We make it easy for you to configure and shape your network with the topology of your choice. These services provide the same security and reliability of a traditional private line service, with dedicated, scalable bandwidth connectivity options that improve flexibility and operational efficiencies.
Ethernet-over-MPLS (EoMPLS)

Ethernet-over-MPLS technology is based on a tunneling mechanism for Ethernet traffic through an MPLS (Multi -Protocol Label Switching) network. EoMPLS supports multiple topologies and offers inherit protection with the ability to dynamically build Label Switched Paths (LSP) between the end points, avoiding network failures. The technology is often used and applicable for Internet service providers, enterprises and as data center connectivity.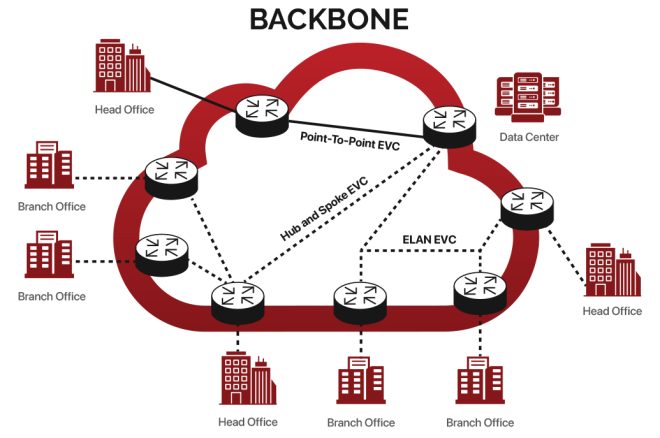 BENEFITS
Reliable
Get carrier-grade reliability through Cybernet's Carrier Ethernet network infrastructure, based on MEF standards, which ensures that your organization remains connected.
High speed, low latency
Cybernet's cutting-edge fiber optic based Carrier Ethernet infrastructure in Pakistan assures fast connections with minimal delays. It delivers ultra-low latency and high speeds of up to 10 Gbps and beyond, enabling your organization to link multiple sites and data centers within a single high-speed local network.
Secure
Each circuit is dedicated exclusively for your use to ensure a private and secure connection.
Cost-effective
These services reduce the need for costly specialized network equipment and infrastructure, which lowers your capital and operational costs.
TECHNICAL SPECIFICATIONS
Available port speeds: nx1G, nx10G, nx100G
BW profile: 1 GE till multiples of 100 GEs
Access Media: Fixed and wireless
Rich QoS support
VLAN based for E-LINE, E-LAN