Build Your Future Infrastructure
Connect without compromising your network
Your customers require a network which is designed to suit the way they do business. A flexible network configuration makes it easy for customers to send data and liaise with each other. Ethernet has continually reinvented itself as the technology of choice for networks around the world. It is now easier for you to configure and shape your network with the topology of your choice that can address the demands of your end customers.
Cybernet's Carrier Ethernet services enable you to link multiple global locations and data centers together through its simplified and reliable carrier's network. This service can deliver transfer speeds of up to 10 Gbps/100 Gbps or even multiple of 100 Gbps, which ensures your business-critical services can be deployed anywhere in your organization, through Cybernet's reliable and secure infrastructure. Cybernet's Carrier Ethernet services provides your organization with high speed connectivity and efficient management of traffic.
E-LINE and E- LAN
Cybernet's E-Line service offers point-to-point or point-to-multipoint connectivity. This makes it easy for you to configure and shape your network with the topology of your choice. It provides you with the same security and reliability of a traditional private line service, with dedicated, scalable bandwidth connectivity options that improve flexibility and operational efficiencies.
With Cybernet's E-LAN service, you can seamlessly connect all locations as if you're present in the same office. This service provides seamless, secure LAN-to-LAN connectivity between two or more locations without the need for specialized WAN expertise or additional equipment.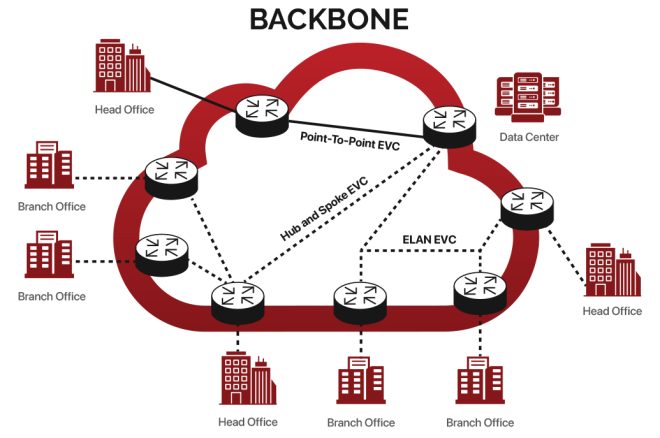 BENEFITS
Reliable
Get carrier-grade reliability through Cybernet's resilient network infrastructure, which ensures that your organization remains connected.
High speed, low latency
Cybernet's cutting-edge fiber optic based Carrier Ethernet infrastructure in Pakistan assures fast connections with minimal delays. It delivers ultra-low latency and high speeds of up to 10 Gbps and beyond, enabling your organization to link multiple sites and data centers within a single high-speed local network.
Secure
Each circuit is dedicated exclusively for your use to ensure a private and secure connection.
Cost-effective
This eliminates the need for costly specialized network equipment, which reduces your capital and operational costs.