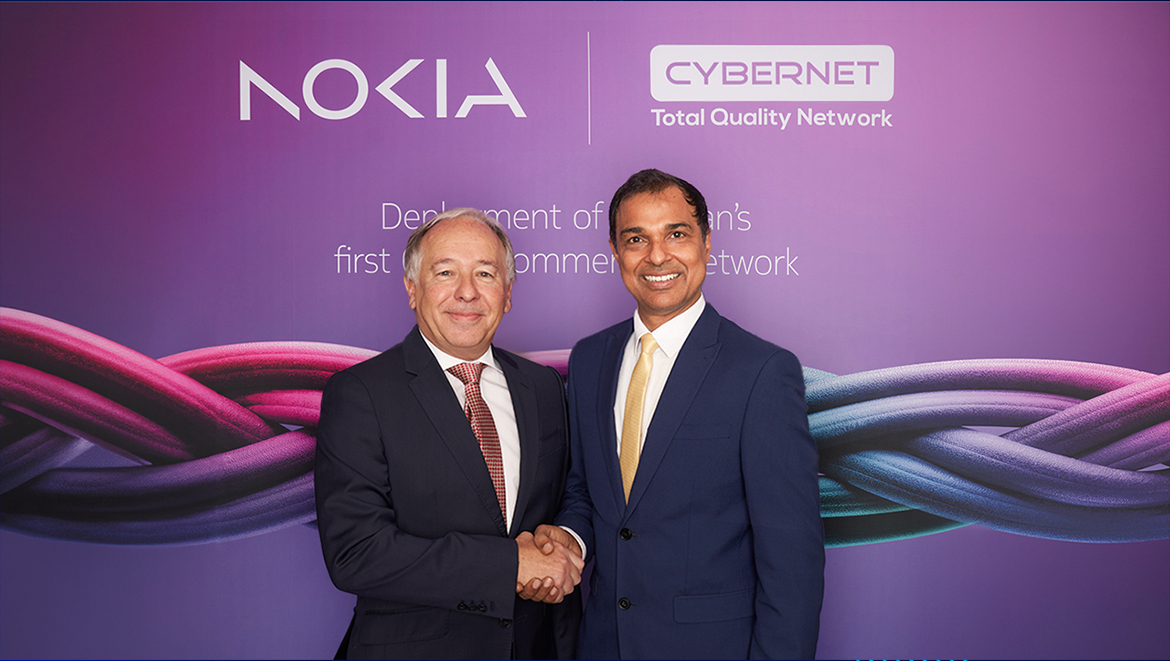 Nokia and Cybernet deploy Pakistan's first 600G commercial network
The new optical network provides Cybernet with the availability, reliability and flexibility needed to quickly respond to evolving customer needs.
The new 600G optical network connects Cybernet's main metro sites.
Cybernet's advanced IXP platform is powered by the Nokia 7750 SR and 7250 IXR routers to deliver a range of IP peering services.

Karachi, Pakistan – Nokia and Cybernet, the leading fixed-line telecommunications provider in Pakistan, today announced they have deployed the country's first DWDM network operating at 600Gbps per wavelength. The DWDM network enables Cybernet to deliver a high capacity, robust network that is capable of meeting requirements of even the most demanding customers. This new optical network connects Cybernet's main metro sites and provides the enhanced network capacity needed to support growing consumer and enterprise demand for fast, high-quality broadband services across Pakistan.

By further strengthening its global footprint through the establishment of its international points of presence (POPs) in MC-1 in Barka (Oman), MRS-2 in Marseille (France), SmartHub in Fujairah (UAE) and SG1 in Singapore, Cybernet is providing its global peering community members with its advanced IXP platform powered by the Nokia 7750 SR and 7250 IXR routers. This platform ensures optimum connection capacity to meet both current and future needs. Cybernet offers Internet, EVPN and MPLS-based services with rich Quality of Service (QoS) at its international POPs.

To better meet the rising demand for high-speed broadband access and network speeds, operators are looking to upgrade their optical networks. Committed to ensuring its customers can tap into the high-speed services it provides, Cybernet partnered with Nokia for the deployment of a future-proof optical network capable of delivering over 600Gbps per lambda. This enhances the capacity and speed of its network used to connect main metro sites within the country. Leveraging Nokia's PSS 1830 optical transport platform, Cybernet can effectively scale its total network capacity to 28Tbs, serving broadband and enterprise customers across Pakistan. 

Cybernet successfully implemented Nokia's advanced integrated ROADM architecture based on flexgrid technology. Through this deployment, Cybernet can better optimize and extend the reach of its optical network. Additional software management and control functions from Nokia's WaveSuite service enablement automation software help Cybernet to further increase operational efficiencies. Broadband and enterprise customers can also benefit from low latency, superior quality of services and an enhanced customer experience. 

Maroof Ali Shahani, Chief Operating Officer of Cybernet, said: "Using Nokia's innovative in-house PSE-Vs chipset with super-coherent optical engines allows us to connect our main sites while also giving us headroom to grow our capacity efficiently and cost-effectively. Through our partnership with Nokia, we can meet our customers' increasing demand for the best connectivity services while also enabling them to benefit from the latest innovations within optical technology."  

Manuel Ortiz Fernandez, Vice President of EMEA Webscale business at Nokia, said: "Having a high-speed optical network that enables the delivery of its advanced IXP platform powered by Nokia's routers, is critical for Cybernet to keep up with today's fast-paced digital landscape. We are excited to help bring Pakistan its first 600G optical network that helps Cybernet's ability to transfer data, reduce latency, improve network reliability and achieve significant cost savings."

About Nokia

At Nokia, we create technology that helps the world act together.

As a B2B technology innovation leader, we are pioneering networks that sense, think and act by leveraging our work across mobile, fixed and cloud networks. In addition, we create value with intellectual property and long-term research, led by the award-winning Nokia Bell Labs.

Service providers, enterprises and partners worldwide trust Nokia to deliver secure, reliable and sustainable networks today – and work with us to create the digital services and applications of the future.

About Cybernet

Cybernet is a leading fixed-line telecommunications provider in Pakistan, with 25+ years of unparalleled services. The Company owns the largest and most robust FTTX network across the country. With a global network presence in France, UAE, Oman and Singapore along with unparalleled service levels, Cybernet offers Carrier Ethernet, IPLC, DIA, MPLS, Wholesale Voice, Peering, IP Transit, Cross-border capacities and Submarine Transits, Cloud and Carrier Node hosting.