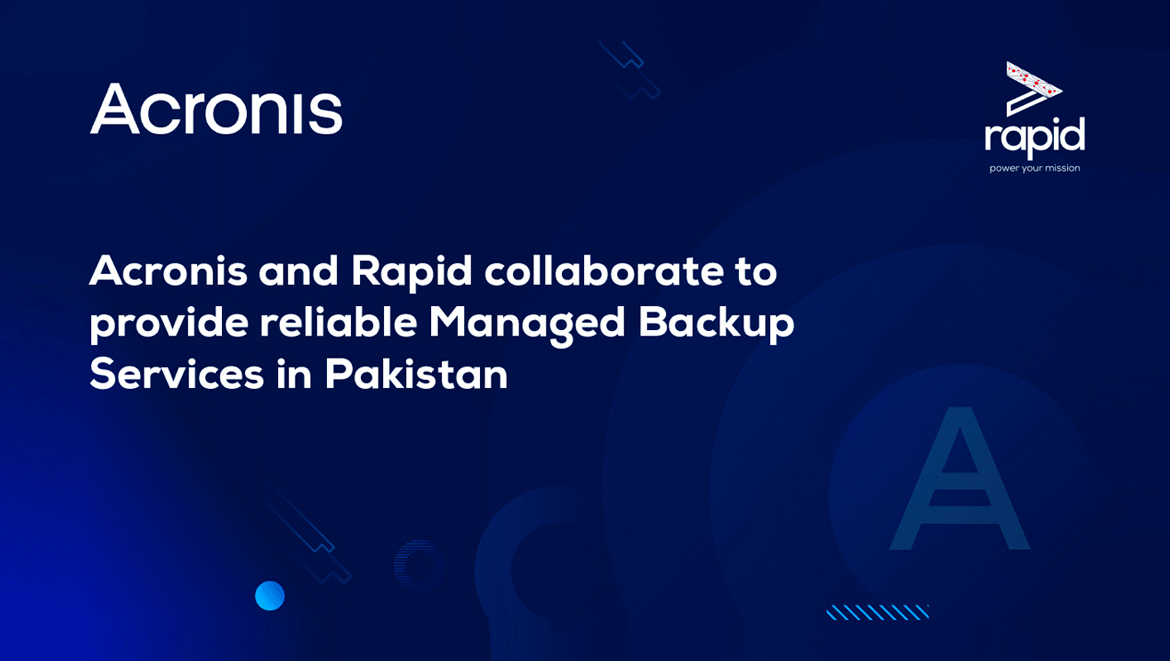 Reliable Managed Backup Services in Pakistan Now Available Through Acronis and Rapid Collaboration
Acronis, a multinational company providing data protection solutions, has partnered with Rapid, a cloud division of Cybernet, to offer managed backup services to the Pakistani market.

This partnership aims to provide comprehensive and secure data protection, backup, and recovery services to Rapid's clients.
Rapid is the first Pakistani company to partner with Acronis and will benefit from the expertise of a global leader in data protection solutions.
The collaboration between the two companies will enhance their customer portfolios and help provide a meaningful experience while ensuring their infrastructure's reliability and security.
Managed backups will enable businesses to perform full-image, file-level, and application-level backups and recover data quickly in the event of data loss or a disaster.
Shahzaib Khan, Commercial Head at Rapid, commented:
"I am pleased to announce our partnership with Acronis, a global leader in data protection solutions. This collaboration signifies a major milestone for Rapid, being the first Pakistani company to join forces with Acronis. Our objective is to deliver comprehensive and secure managed backup services, ensuring the utmost data protection, backup, and recovery for our valued clients."
"By leveraging Acronis' expertise, we will enhance our customer portfolios and provide an exceptional experience while ensuring the reliability and security of their infrastructure. This partnership allows businesses in Pakistan to automate backups, minimize data loss, and choose between cloud or on-premises storage. We are excited about the transformative impact this collaboration will have on data protection services in our market."
Aligned with the overall organizational ideology, managed backups will allow businesses to automate the backup process, freeing IT staff to focus on other critical tasks.
It will also provide a cost-effective way to store and protect data, as businesses can store backups in the cloud or on-premises.
Furthermore, businesses can benefit from greater flexibility in their data recovery process.
With backup data readily available, businesses can quickly restore data to any point in time, minimizing data loss and downtime.
Rapid is one of the largest providers of cloud services to Pakistan's government, financial sector, and large-scale enterprises.
It offers cloud computing, networking services, and management tools for digitizing businesses and industries.
Rapid stands out as the sole local CSP with certifications in PCIDSS3.2.1 and ISO 27001:2013 and compliance with GDPR.
This ensures that their data and network security align with globally recognized standards.